I really love the "La Belle Epoque" period and am very fascinated by it, lately. I think because life must have been very beautiful without war after war after fake war after politicians wars. So, I can sympathize with the people of this era. The people who lived at this time probably had not known anything BUT peace until WW1 occurred.
The art from La Belle Epoque, in my personal opinion is so 'swishy' and feminine. Yet, classy and "Brandied"… I mean.. I can easily see a very confident man with a glass of brandy sitting in a room filled with Art Nouveau paintings very comfortably.
The art of this time period was painted mostly by men. The beauty of these paintings beckons me to pause at the wonderment of how men saw women before feminism came in and destroyed females.
Take Raphael Kirchner… I love his view of women: Delicate, sweet, wholesome, happy, a splash of sexy, mischievous and loving. A little uninhibited but not too much.
Here are some of Kirchner's lovely paintings: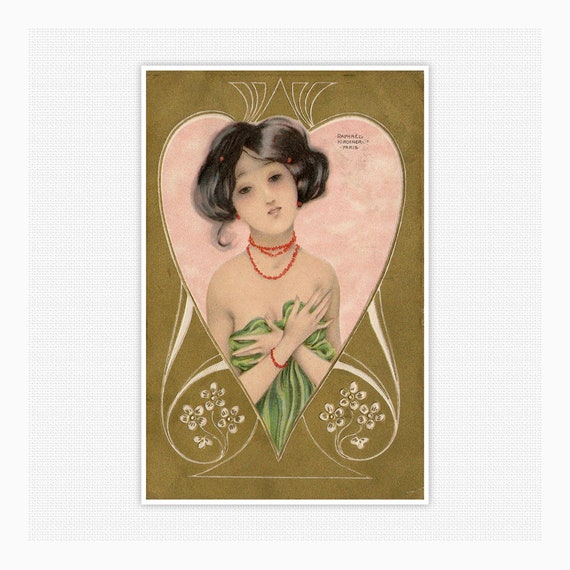 Some of Kirchner's pinups and more:
Kirchner was born in 1876 in Vienna, Austria, and attended the Academy of Fine Arts Vienna.[1] He moved to Paris in the year 1900, making illustrations for such magazines as La Vie Parisienne.
Raphael Kirchner produced over a thousand published paintings and drawings in his lifetime, mostly in the form of picture postcards. Hisorientalist "Geisha" series was among his most popular, with over 40,000 cards sold. The series is a notable example of the cross-influence between Art Nouveau in the West and Japanese art of the Meiji and Taishō periods. Kirchner's often mildly erotic paintings of feminine beauty, in convenient postcard and magazine page form, were among the early pin-ups favored by European and American soldiers in World War I.
Peruvian painter Alberto Vargas cited Kirchner as an influence.