@realDonaldTrump WHY Was Sen Murphy Fomenting Revolution In Ukraine, 2013? And, Seen With Svoboda Party NAZI?
Nobody even asks these questions.  The whole Ukrainian SNAFU is all about OIL.  NOT "Zionists", not "Russia is evil".   Its about OIL.  
Hunter Biden, after the fall of Ukrainian President, Yanukovych (by Soros and Deep state operatives) secured a position with the largest Ukrainian Gas company.  I reported this years ago but here is a link to the Communist MSM and how they WERE upset with Hunter Biden but now are not:   https://www.washingtonpost.com/news/worldviews/wp/2014/05/14/hunter-bidens-new-job-at-a-ukrainian-gas-company-is-a-problem-for-u-s-soft-power/
[2014 photo:  Joe Biden (second from right) and his son, Hunter (far right), golfing in the Hamptons with Devon Archer (far left), a Ukrainian gas company executive. Archer served on the board of Burisma Holdings with Hunter:]
At any rate:  
Seen in Kiev is Sen Chris Murphy with John McCain:
Here is Sen Murphy with Svoboda party Nazi, Oleh Tyahnybok. Murphy, L McCain  C and Tyahnybok, R-
Don't believe me?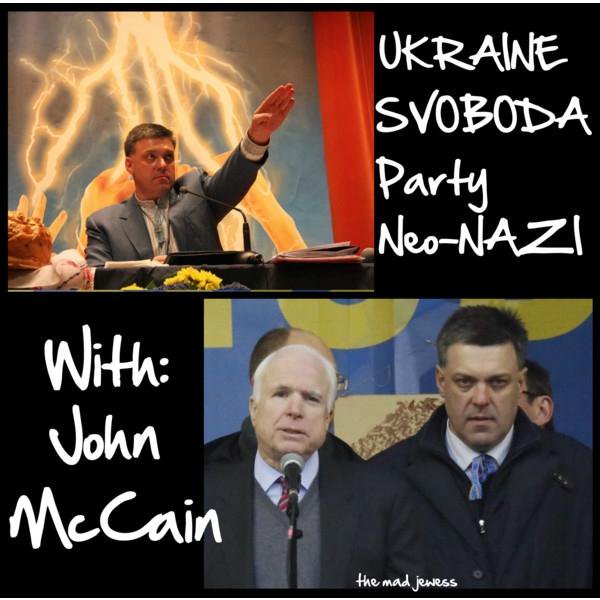 See the 3 fingers in yellow?  
Again:
WHY was Sen Murphy in Kiev, fomenting a revolution on behalf of "European trade", when it was all about OIL.  
Members of our Govt, aka "Deep State" start fake revolutions, aka: "Arab Spring", "Ukrainian Renaissance" and more to overthrow elected leaders and steal their oil.  Thats what our Govt does now.  FACT. Obama and the Democrats turned Ukraine upside down and performed a coup in Ukraine with the help of  King George Soros, who spoke out on HIS Revolution in Ukraine.   OR see here:   More at:  Project Syndicate
The ONLY Senator who addressed this was Rep Rohrbacher:
I wrote about it years ago. Everyone called me a "Russian troll" and now everyone wants to know what 'really' happened in Ukraine.   https://themadjewess.wordpress.com/page/3/?s=soros%2C+ukraine&search=Go