Everyone is looking for an anti Christ.  Well, he's already here and he was the Prez of the US (Obama is either 'the one' or the 'prophet' OF 'the one'.)    Imagine a nation turning SO evil that we had this disgusting pig as a Prez.  People worshiped this evil devil like he was Jesus.  The Left loved this bottom-feeding pond scum. Of course they did because he is the most evil creature alive and they are evil personified.
I just saw an article where Satan/Obama was refuting Prez Trump about the virus…SO typical of Obama. So predictable.  I bet the monster becomes King of the UN.  Remember now….he wants to be 'king' of the world.  Then, he'll lead all of the nations to Israel to kill the Jews there and all these phony "Christians" that hate Israel will praise that monster to the skies just because they hate all Jews.  Imagine serving satan in hell forever just because you hate Jews.  And, believe you me…Obama will be praised even by some Jews in Israel. Not all but many.
Word to the wise… Stay away from the Obama-bot types.  They will accept the bracelet or tattoo in their wrist.  This bracelet in the coming time ahead will afford them food.  If you think for a minute, this pest went away after the election…You must also believe bridges in Brooklyn are for sale. God gave plenty of signs of this beast.  People brushed the signs off. I didn't. Even Obama's home state showed us who he is: Illinois Lottery Drew 666 on Heels of Obama Victory. Any coincidence that Chicago Zipcode is 60606?? His secret service code name was 'renegade' and his limo was called "beast".
Lord of the flies: (flies are drawn to crap)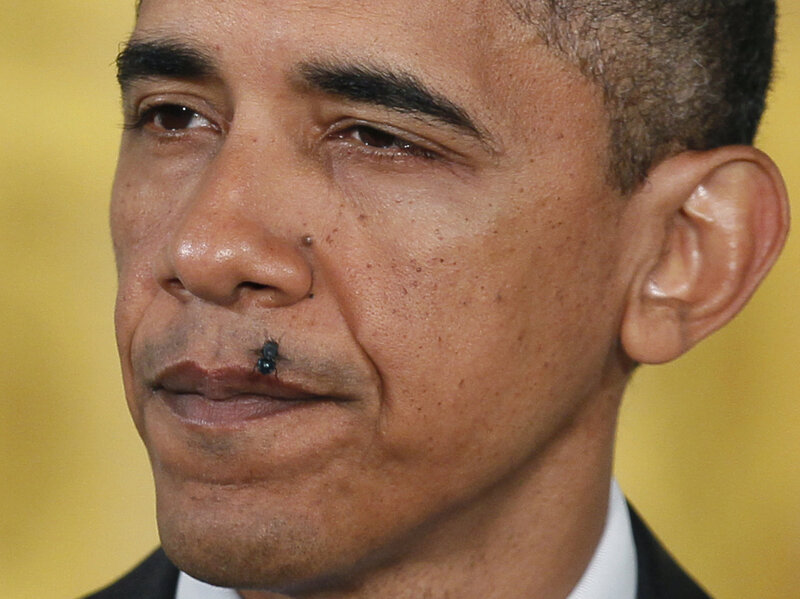 God mocked him below.  Obama said: "You all know who I am".  Yeah, Satan's fav son… But, the sheep had no clue.
God was showing everyone he is a dirty rat:
We are 'the ones we've been waiting for'.  Yeah, satan… Puke.
666 came up right after Obama won the election:
Just watch…In a time of great turmoil, the anti christ will rise on the scene.  He is starting to:  Obama Tells Americans to Stay Home For the Foreseeable Future After President Trump Says He Wants to Reopen the Country by Easter

It…. the creature is already here.