Maryland's Steny Hoyer, Commie-Crat "Amazed At The Bareness Of Grocery Store Shelves" (Maybe Try LOOKING At Your IDIOT Politics!!!!)
Steny is massively woeful about bare shelves in Maryland but can't see Democrat foreign policies are destroying the nation. See this at Red Voice: Democrat Rep In Biden's Backyard Amazed By What He Sees At The Grocery Store In Maryland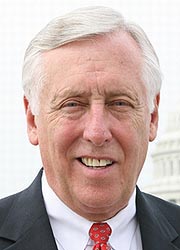 STENY H. HOYER (Democrat), U.S. Representative, 5th Congressional District (Calvert, Charles & St. Mary's counties, & parts of Anne Arundel & Prince George's counties), Maryland.
Capitol Hill:
1705 Longworth House Office Building, Washington, DC 20515
(202) 225-4131; fax: (202) 225-4300

People: Get your rice and beans.
A "Super Depression" IS on it's way. The DOW is down well over 1000 points at 11:30 PM, PST.
The Bank of England has just sounded the alarm regarding a coming 'apocalyptic' global food shortage
AND, Starvation News reported:
German Foreign Minister Annalena Baerbock is now blaming Russia for causing "brutal hunger" even though her country was the one that blocked Russia from trading agricultural products in the first place. Baerbock made these absurd comments at a recent G7 meeting with Canada, France, Italy, Japan, the United Kingdom and the United States.