Andy Slavitt, Jo'Bama's Former Covid Response Chief Says Something Is Coming In "3 1/2 Weeks" Regarding Covid
What will the Communist, murderous Democrats do?? Chop off the heads of people who refuse the poison injection? Put them in FEMA? Gas them? Tent the military in our neighborhoods to intimidate us like they're doing in Australia?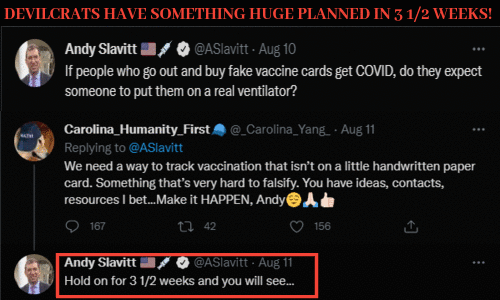 Read more here: Watch Out, America! A New 9/11 Is Only Weeks Away: As America Enters The 'Twilight Zone', Biden's Covid Czar Hints Something Huge Will Be Happening In 3 1/2 Weeks
Slavitt accepted a temporary role as Senior Pandemic Advisor[4] to President Joe Biden's COVID-19 pandemic response team. He stepped down from that role in June 2021
Dont get that shot no matter what.
If we have to die on this hill, then die we must.
If the Communists have to FORCE you to get this shot, then it AINT just a shot. Its much more nefarious than that.