CUOMO Should Be Tried For Crimes Against Humanity. He Is A MASS-MURDERING DEMOCRAT. This ISN'T About "Harassment"
This nation is out of its collective mind. Only in AMERIKA can a 'leader' (and I mean leader in the loosest sense) get away with mass murdering 10's of thousands of people -but be 'brought up' on 'harassment' charges. This is INSANE.
The whole focus right now is that Cuomo 'sexually harassed' some women. What a bunch of crap!! This EVIL SOB mass-murdered grandparents. Sent COVID patients to nursing homes which killed off the elderly IN those nursing homes.
'BUT HE'S A HORN DOG, MAD JEWESS!!'
What the hell does anyone give a rats ass that he acted like a typical, powerful male?! He did what any male in power does with the women around him. You stupid chicks need to learn how to kick some ass for gods sakes!
Harassment overrules MURDER here in AmeriKa! LUNACY.
The Left called Trump, "Hitler", yet here we have a MASS MURDERING DEMOCRAT Governor and the Left is SILENT!! They only care if it is 'harassment' against women. They only care if they can make $$$$ off of #METOO. Sickening! Only the right is "Hitler" & "NAZI"…..But, it is the LEFT that is mass-murdering people!
This nation is focking nuts.
Even stupid Seth Mandel chimed in….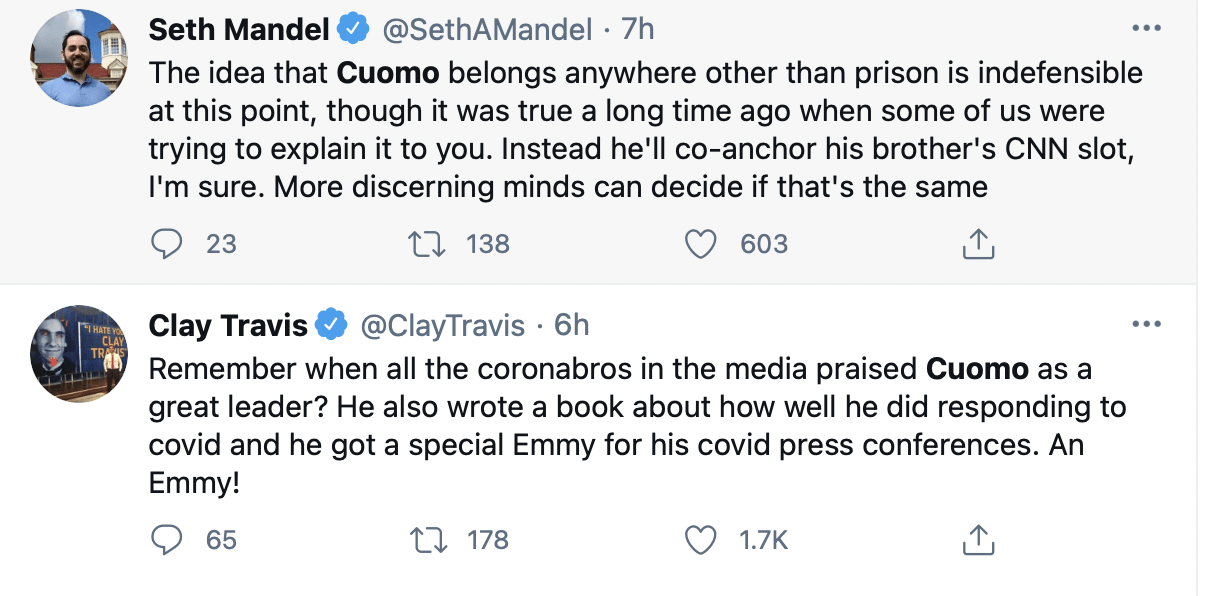 ONLY IN AMERIKA CAN A MASS MURDERING DEMOCRAT GET AN EMMY!