Monterey Peninsula, State Of CA ON FIRE, Thousands Of Acres Burned. Bay Area On FIRE
River Fire update: 3,793 acres burned, six structures destroyed.  I used to live about 12 miles from the river.  The whole nation is under serious judgment.
Today, Mount Toro is on fire.  My friend just called to tell me.  She still lives in Salinas, CA. 
Right outside of the city of Monterey is Salinas, about 17 miles away. The river is on fire.  It is an underground river.  It has already burned thousands of acres:  See what the Salinas River Fire looks like
The Monterey County Herald is reporting that over 10K acres are charred: Click to see this horror  UPDATE: River Fire grows to over 10,000 acres
Man arrested in southern Big Sur on arson charges in connection to Dolan Fire
PHOTOS: Fire breaks out near Carmel Valley Village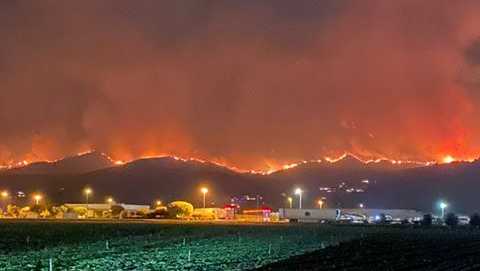 The San Fran area was hit with lightening.  The lightening is said to have sparked over 300 fires.  This is near the Oakland area:
Throughout California, firefighters are battling 367 known fires, many sparked by rare summer thunderstorms and lightning earlier this week, and are now fueled by hot, dry and windy weather. That includes the three major blazes burning in the Bay Area:

• The CZU August Lightning Complex Fire in Santa Cruz and San Mateo counties covered 10,000 acres, forced 22,000 people to evacuate and was burning out of control as of Wednesday morning.
Read the rest of this whole disaster:    Right here.
More: